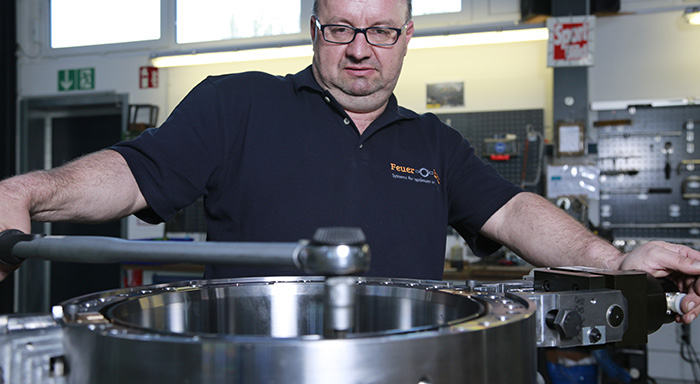 Overhauling/maintenance/repair
Today, overhaulings due to wear only remain necessary for the old PWDS® D1/D3/D5/D7 versions.
These versions have a holder ring below the flexible ring. Wear occurs on this contact interface and results after varying intervals in leaks in the PWDS® die. During the overhauling, these two rings are replaced and adjusted by our specialists for optimum service life. Today, we recommend a switch to the new wear-free PWDS® versions. If needed, we are prepared to use our technical knowledge to perform overhaulings in our service shop or on your premises. Regular maintenance of our PWDS® systems guarantees the least possible downtime for the machines. The hydraulic actuators in particular should be maintained at regular intervals. Our specialists are ready to help you here, as well. Should repairs nevertheless become necessary, we can help you at short notice. We store standard parts and many special components at our own expense so as to be able to return any PWDS®/SFDR® system back to production as soon as possible. For repairs in particular, it is often useful to send the PWDS®/SFDR® system to our plant in Germany. If the system is damaged, it is difficult to determine which components have been affected without physically examining it.

Usually we have all replacement parts in storage at our Troisdorf location. Transporting the system is generally cheaper than transportation cost for replacement parts and travel time and costs for our specialists.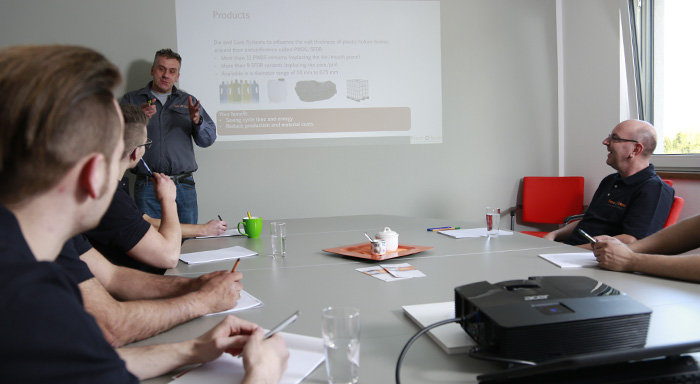 Training measures
Comprehensive training measures are one of our points of emphasis.
A combination of PWDS® and SFDR® is a much more complex system than a solid die/mandrel tool and may only be used by trained personnel. Improper settings reduce the utility of the PWDS®/SFDR® and, in the worst case, lead to contact between the PWDS® and the SFDR® and breakage of the flexible rings. This generally necessitates expensive repairs. The timely training of staff allows you to minimize this risk.
We offer training measure in various formats:
At our location in Troisdorf, we can offer theoretical and practical training on the PWDS® and the SFDR®. We have set up a special training area in our manufacturing facility, including a hydraulic unit, a control unit for electrical PWDS® drives, a heater control, an S5 and an S7 blow-moulding control, and a light gantry crane with a head connection. This puts us in a position to hang an electrical or hydraulic PWDS® system on the simulated head in the flow direction, warm it up, and train all mechanical steps "on the head" or at the work bench.

We would also be happy to train your personnel on your premises, within the framework of optimization, maintenance, or repairs, for instance. Generally, we recommend a combination of theoretical and practical training to prepare your personnel for work with the PWDS®/SFDR® system.